Pipetty Pro
Pipetty Pro
The automated pipetting system "Pipetty Pro" is a device which performs programmed transfers of liquid between preselected groups of containers. The "Pipetty Pro" is equipped with Bluetooth® technology so that this device automatically logs a researcher's work in the laboratory for the purpose of validation and verification of pipettes . It will make your pipetting tasks in the laboratory to be more accurate and help to eliminate manual pipetting errors.
Pipetty Pro Movie(language:Japanese)
Electric auto pipet equipped with Bluetooth®
"Pipetty Pro" which is an electric auto pipet equipped with Bluetooth® technology improves your dispensing work and reduce human error.
Functions
Programming
Once you pre-set the dispensing volume to application software on the computer , "Pipetty Pro"  will then communicate with the computer via wireless internet to dispense doses aoutomatically recording the date you set.
Logging
"Pipetty Pro" with Bluetooth automatically record the date, time, name of operator, temperature, humidity and dispensing when a researcher conducts experiments.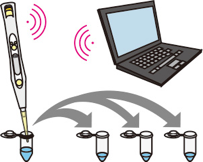 Navigation
"Visual well plate navigation system" makes your work experiments to be more precise and easy.
Researchers can dispense doses to wells while watching the position on the display.
Specification
Volume range
0.1-20μL
1-250μL
5-1000μL
Quality assurance
2-20μL
25-250μL
100-1000μL
Repeatability(C.V.)
20μL≦0.4%
2μL≦2.0%
250μL≦0.15%
25μL≦0.7%
1000μL≦0.15%
100μL≦0.5%
Accuracy
20μL≦±1.0%
2μL≦±3.5%
250μL≦±0.5%
25μL≦±1.5%
1000μL≦±0.5%
100μL≦±1.5%
Size
20×54×184
20×54×181
20×54×181
Weight
Approx.75g(include battery)
Power
AAA Nickel hydride battery


(Recommended:Panasonic, EVOLTA BK-4HLC *Option)

Buzzer
ON/OFF
Tip
ICL exclusive Tip, other general Tip
Down load "pipetty Pro Navi application program"
Application Program(Ver.4.1.2.100)
* "Pipette Pro" will not sell in USA, Germany, France, Great Britain, Switzerland and Finland. Please contact us if you'd like further information.